08/30/2022
By: Kailey Kreienbrink
September 24th is National Public Lands Day. That statement might leave you with a few questions, such as, what are public lands? What is National Public Lands Day? What does one do for National Public Lands Day? Read on to have all of these questions answered!
Public lands are lands owned by the federal government. A portion of the taxes that you pay go to the management of these lands – which means they belong to you as well! There are 640 million acres of public lands in the United States. That is more than the states of Alaska and Texas combined! These lands are managed for the benefit of the public. There are direct benefits like hiking, swimming, kayaking, and nature watching, as well as indirect benefits like economic development and scientific research. These lands include National Parks such as Crater Lake and city parks such as Alton Baker right here in Eugene. There are a wide range of public lands that have a lot to offer you.
National Public Lands Day is a day to celebrate all these lands big and small. It is the nation's largest single-day volunteer event for public lands. NEEF (National Environmental Education Foundation) created this day to recognize the connection between people and the environments surrounding them, while also inspiring environmental stewardship. This year's National Public Lands Day theme is "Giving Back Together". As we continue to turn to nature as a safe place in the midst of the COVID-19 pandemic for recreation and a place to be outside of our homes, it is time that we return the favor. We can volunteer to provide for the lands that have provided for us the past two years through some pretty tough times. Volunteers from all over the country will join together to remove trash, plant native plants, create trails, and celebrate these beautiful lands.
Now that we know what Public Lands are, go out and enjoy them! Down below I have provided two different ways to enjoy Public Lands right here in Eugene. You can do both if you want, it's a "choose your own adventure" kind of thing.
Choose Your Own Adventure #1
The West Eugene Wetlands managed by the BLM are a great place to go for a walk, run, or bike ride to enjoy National Public Lands Day. In the WREN office we have a map that shows different Public Lands along the Fern Ridge Bike Path. So I decided to take to the trail myself and see what these Public Lands had to offer. And let's just say they did not disappoint!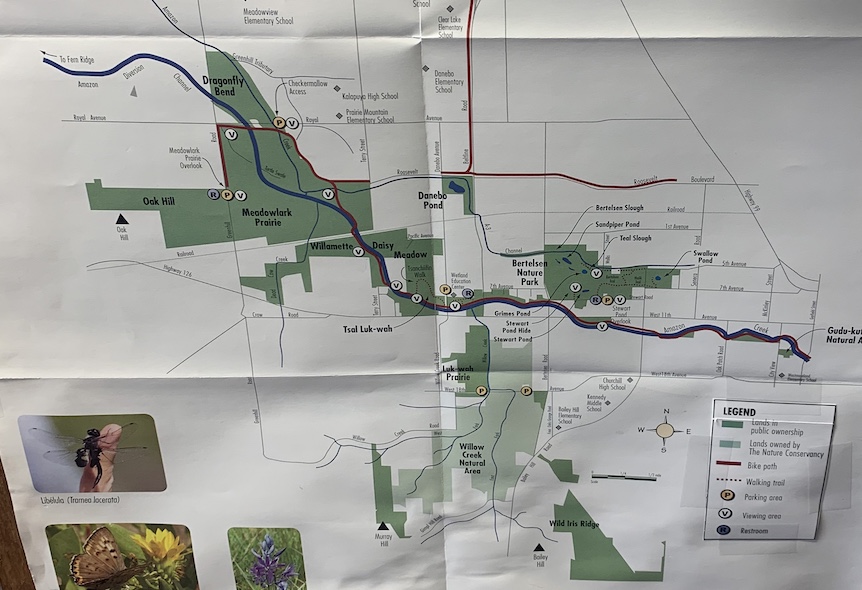 I started by parking my car at the Meadowlark Prairie parking lot. This parking lot can be found right off of Greenhill road, there is a sign that makes it easy to find! From the parking lot you can head straight to the Fern Ridge Bike path. I walked the path all the way to the WREN office for a round trip of 6 miles. At any point you can turn around to make your adventure as short or as long as you would like– that is the beauty of a path!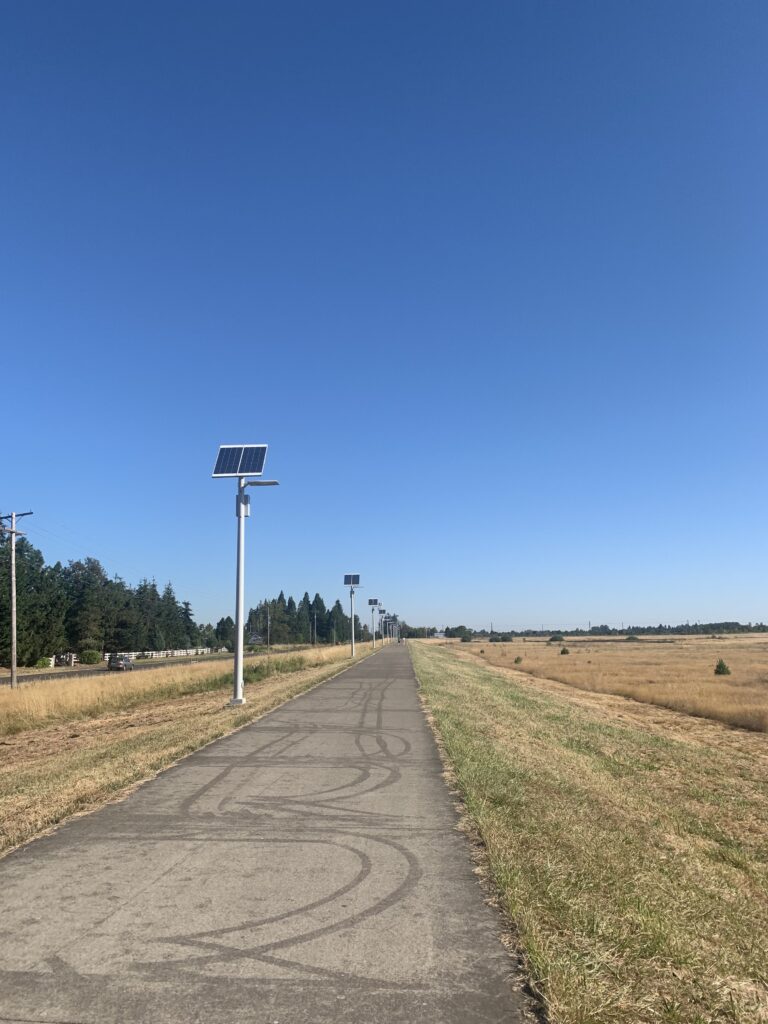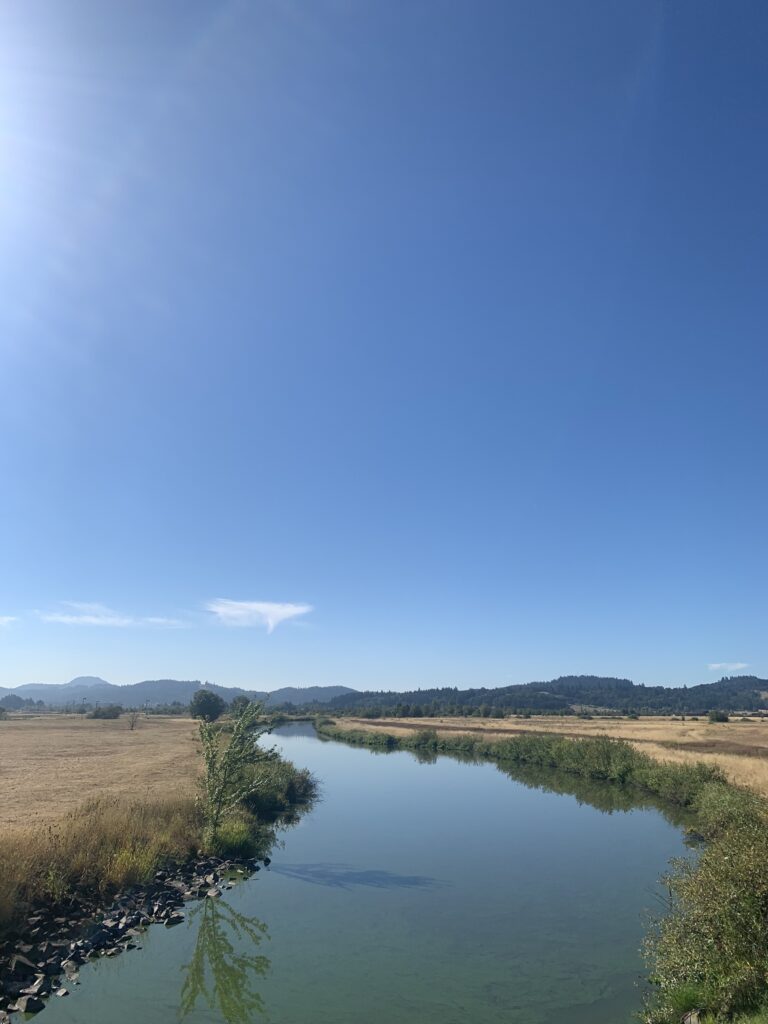 The path has periodic benches and signs that provide you information about the wetlands that you are walking within. When walking or biking along the trail I recommend you bring a water bottle and walk earlier in the day. There is a lack of shade so it can get hot very quickly! There are a lot of birds along the path so if you are into bird watching, bringing along a bird ID guide and binoculars would be a good idea. I made the WREN red house my half way turn around point, but the path continues beyond that as you can see on the map above. If you plan to go further, I would recommend biking. I go for walks almost every day but even for me 6 miles was a good point to stop. I always enjoy a good chat while I go out for a walk, this trail is perfect to bring a friend along or even just call someone you have been meaning to talk to.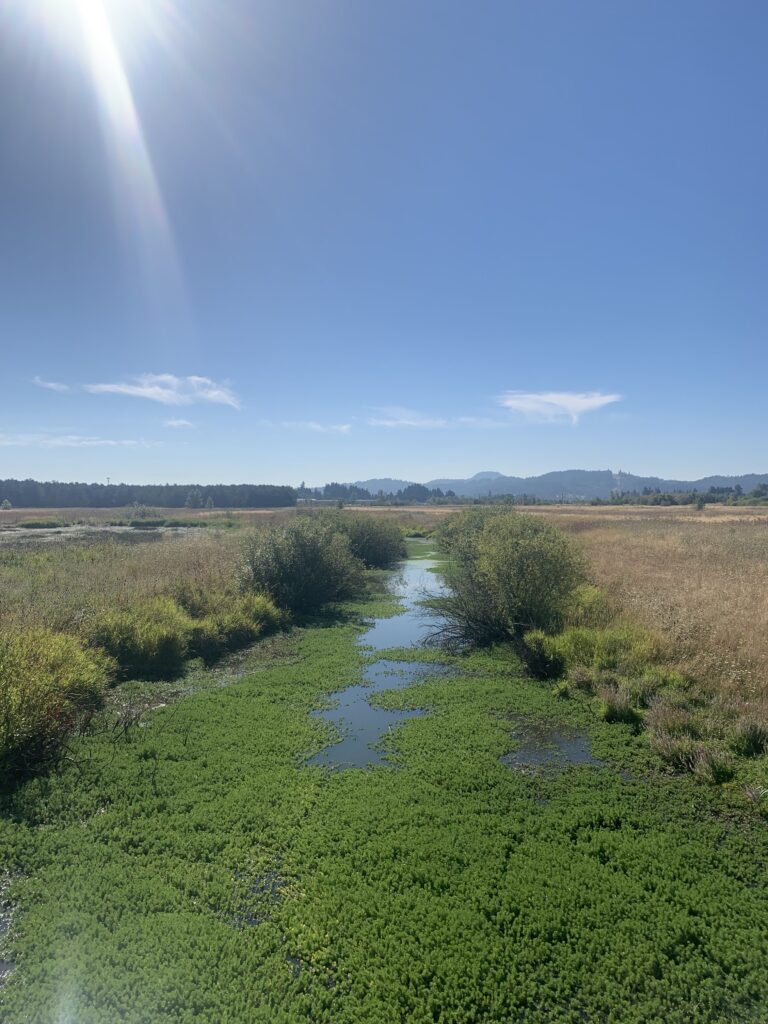 Choose Your Own Adventure #2
You can be one of the thousands of people who volunteer on National Public Lands Day across the country right here in the West Eugene Wetlands! BLM, NEEF and WREN are working together to provide a fun service day on the public land surrounding the WREN office right off of the Fern Ridge Bikepath. Volunteers will improve native plant gardens, increase access to the Danebo boardwalk, learn with experienced land managers, and receive free t-shirts! This free event will take place on September 24th from 9am to noon, you can register online at register HERE or by calling our office at (541)-338-7047.
I'll be there, so join me in celebrating our Public Lands this September by choosing your own adventure in the West Eugene Wetlands – whether that is through a bike ride or a day of volunteering!