Upcoming Events
---
If you'd like the most recent news delivered directly to your inbox, please sign up for our regular newsletter…
Don't Miss Out on an Exciting Volunteer Opportunity!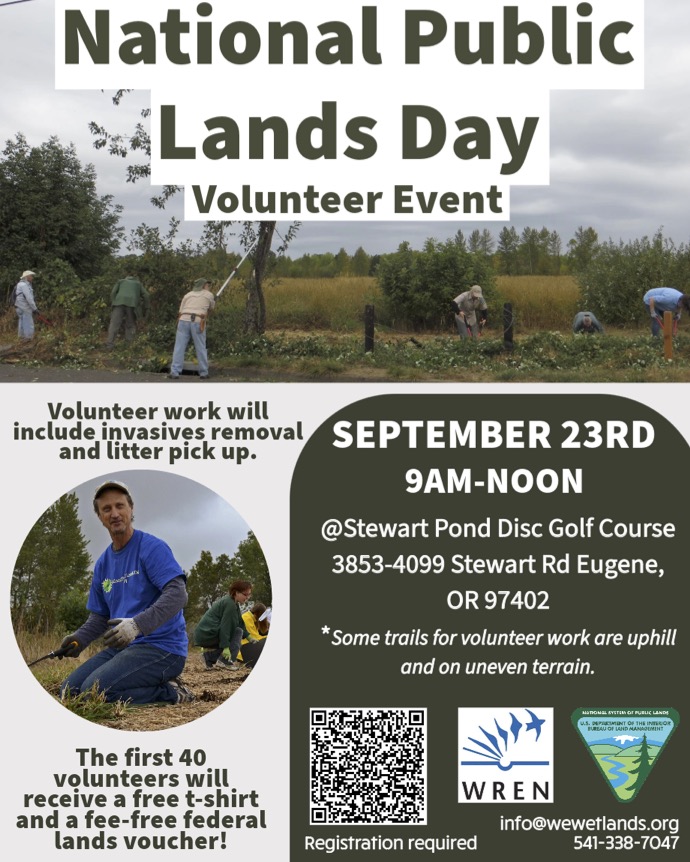 Come spend a morning in YOUR West Eugene Wetlands improving trails, removing invasive plants, and picking up litter. The first 40 volunteers to register for this event will receive a free t-shirt and a fee-free federal lands voucher. All volunteers will have access to the vast wetland knowledge of BLM staff and WREN educators.
Some volunteer work will take place uphill and on uneven terrain. There are no bathrooms available on site. Parking available at Stewart Ponds parking lot or along Stewart Rd.
Did you know? 
The West Eugene Wetlands are habitat to many endangered species and home to hundreds of plants and animals. These wetlands also provide recreational opportunities for local community members like you! This site in particular includes a dynamic disc golf course and trails to observe wildlife! Additionally, the wetlands provide flood control and act as natural water purifiers during the rainy season.
Registration is Required: 
Click the link below to register today!
https://www.eventbrite.com/e/national-public-lands-day-wetland-workday-tickets-674007102387?ff=erelexpmlt&fbclid=IwAR1XEVh5S7rVDT69DwJaohHBUifGf36A_D_R6QahxW5TSAHoJQjkUkRCWNI
Recommended Ages:
10 and up. Those 18 years or younger must be accompanied by an adult.
Cancellation Policy:
WREN is constantly monitoring weather for all of our events. We will let all participants know via email of any changes or cancellations 24 hours before the event.
For questions, please contact: 
Isabel Justiniano, Programs Coordinator for the Willamette Resources and Educational Network (WREN) at info@wewetlands.org or call 541-338-7047.